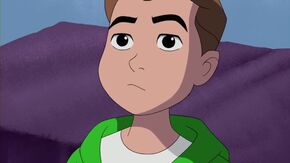 Jimmy Jones
is a kid who is a major fan of Ben and his alien heroes. He runs a website with pictures of aliens around the world including, every alien Ben has ever turned into, even dating back to when Ben was ten years old. He always refers to Ben as Mr. Tennyson.
Jimmy first appears in Fame when Ben finds out that Jimmy has been posting things and a video about him and his aliens on a website. He and the team realize that Jimmy is pretty useful so they let him do what he wants.
Appearance
Edit
Jimmy wears a hoodie similar in design to Ben's jacket and wears the same kind of cargo pants that Ben did when he was ten years old.
Jimmy thought Jetray was called "Jeffrey", until Ben corrected him.
Jimmy has a liking for peanuts since Eye of the Beholder.